Wednesday, 02 August 2017 00:00
The 14 contestants of the Miss Seychelles beauty pageant will make a child smile in a talent show on Saturday, the show's organiser said.
The talent show, which will be held at the International Conference Centre in the island nation's capital, will raise funds for a local charity helping children with disabilities called Make a Child Smile. Tickets cost 100 Seychelles Rupees are already on sale and can be bought through the founder of Make a Child Smile -- Clifford Mondon. 
"They will be singing, dancing, including traditional dances, and recite poems. The dances they had recently learned as part of their training in preparation for the contests, while others will be doing demonstrations in kickboxing and karate," said Terry Carolla, the main organiser.
 The contestants in a practice session with the choreographer. (Michel Desnousse) Photo License: CC-BY
Carolla said the show has been organized in a timely manner so as to give the girls exposure two weeks before the Miss Seychelles crowning ceremony.
"The participants will most importantly face a crowd and build their self-confidence so that come August 26th, they would have conquered all their fears and ready to confidently participate in the pageant," added Carolla.
Guest artists such as Telsy, Sandra, Fastidious and Joseph Sinon as well as groups like the national cultural group and the Relations band will also participate in the event.
This is the first time contestants of the Miss Seychelles pageant will come together to raise funds for charity.
Mondon thanks the Miss Seychelles contestants for their support and generosity in making a Seychellois child smile. (Cliff Mondon) Photo License: CC-BY
Mondon, the founder of the Make a Child Smile foundation, said: "Money raised by the contestants will go to the charity, which has been assisting mostly children in need of specialized medical treatment or has some sort of disability."
"I thank the Miss Seychelles contestants for their support and generosity in making a Seychellois child smile," said Mondon, the father of Grace, who has a disability.
"There are so many children without happiness and without a smile on their faces and I want to see them happy and smiling," he added.
This year's beauty pageant will be held under the theme 'Miss Seychelles Another World -- Labote Seselwa - The pearl of Seychelles.' 
The contestants -- ages 17 to 25 -- are: Keisha Pereira, Serah Jumaye, Seychelle Worth, Ralista Hortere, Tracy Francoise, Joanna Pouponneau, Stephie Bastienne, Hillary Joubert, Petra Tamatave, Nerli Haide, Nancy Esparon, Ella Marie, Falaine Dora and Angie Desnousse.
The prestigious pageant of Seychelles, a group of 115 islands in the western Indian Ocean, will be held at the Avani Seychelles Barbarons Resort and Spa on Saturday, August 26th.
Tuesday, 01 August 2017 00:00
Seychellois can now watch local news and live entertainment on télésesel -- the island nation's first high-definition television channel.
"The channel is the first high-definition local TV channel that will try to find a niche in the information space of the country," Camille, one of the station's founders, said at the launch ceremony on Friday at Eden Island on the eastern coast of Mahe.
Camille added that the channel boasts people of experience and the latest technology that enables everything to be switched to high-definition.
Télésesel created by Clive Camille and Gilmer Philoe is an initiative of Radius Studios, a private production company set up in 2015 by Camille. The project is supported by the local telecommunication company, Cable& Wireless Cable Seychelles.
The télésesel channel since July 24 is broadcasting 24 hours a day on channel 1 of the Cable IPTV platform. Viewers can watch a wide range of programmes from talk shows, documentary, environment and lifestyles, to shows promoting all aspects of Seychelles. The channel will also have a news bulletin that will be broadcast every night.
Camille told SNA that the new channel is not trying to compete with other broadcasting services in the country, but it will offer a diverse mix of entertainment that suits all ages.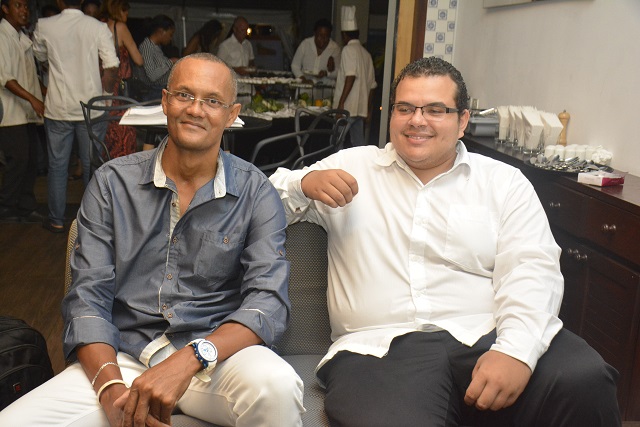 The two founders of télésesel -- Gilmer Philoe and Clive Camille (Jude Morel, Seychelles News Agency) Photo License: CC-BY
Speaking to SNA, the other founder of télésesel, Gilmer Philoe, said the idea and inspiration started when Camille and himself while the two were looking at a video that he had produced.
"It was only then that Camille asked me to join him in opening a new TV channel. Without hesitation, I said yes," Philoe told SNA.
Philoe, who worked for 26 years in the field of broadcasting, said that the public was yearning for more local television programmes and the channel will offer just that.
At the launching on Friday, télésesel also presented its group of presenters and journalists in a video. They are Stephanie Remie, Myra Labiche, Betty Mondon, Patsy Athanase, Andy Henriette, Kerine Savy, Madiha Philo, and Bertrand Tirant.
Henriette, the sports presenter, told SNA that joining télésesel was one of his biggest challenges as he had some doubts at the beginning.
He said that his programme will focus on promoting Seychellois athlete and will address controversial subject among others in the Seychelles sports world.
Talking about the télésesel's partnership, Camille said that they chose Cable & Wireless because the company represents innovation in the telecommunication industry.
The chief executive of Cable & Wireless, Charles Hammond, said that the telecom world is moving to what they have become now, a service provider.
"The transition in this industrial revolution is happening so fast.  It is an exciting time and télésesel forms part of it," said Hammond.
He added that Cable & Wireless Seychelles received quite a few proposals from different organizations, "but Radius' proposal stood out in terms of its content and vision of what it wanted to achieve.This is why Cable & Wireless stepped in to assist them in achieving such."
An invitee at the event, Daniella Payet, told SNA that télésesel is bringing new content to the local broadcasting scene, showcasing another side of the story.
"I have watched the channel, and it is providing good quality," Payet said.
More...